The Medical University of South Carolina is trying to make it easier for students to understand their finances and plan for the future through its new Office of Student Financial Literacy. Dental student Mackenzie Long said there's definitely a need for it. 
"I am completely on loans. I have gone through phases of it really stressing me out," she said. "I think the Office of Student Financial Literacy will be a very good resource to have on campus."
The office, on the fourth floor of the Harper Student Center at 45 Courtenay Drive, offers students guidance on managing debt, budgeting, insurance, savings, retirement planning, housing decisions, building credit and more.
Liz Gumbiner directs the office. She said it offers that range of options to meet students' varying needs. "I think a lot of students, especially at the graduate level, have different backgrounds. Some might be married, some with families of their own. They might be right out of undergrad. Some might still be on their parents' health insurance. And so they're coming from all walks and stages of life, which is why the program needs to be developed in such a robust way."
The office opens as MUSC looks for ways to reduce the type of student loan debt Long worries about. The university makes clear what degrees from each of its academic programs cost, which are published online under the college in which they are housed.
But knowing the cost isn't the same thing as understanding how to keep debt as low as possible, said Suzanne Thomas, Ph.D., associate provost of Educational Planning and Effectiveness at MUSC.
"The thing we've been concerned about is the fact that students will start at MUSC and they're just so excited to be in. And they may not be thinking, 'How should I be budgeting and watching my pennies and dollars to minimize my debt when I graduate?'" Thomas said.
"If they are not giving attention to those issues until the end of their education, and for example, they've just accepted the maximum amount of student loans available to them, it can be a shock to see the final debt load at graduation. And this is not unique to MUSC students. Health care students across the country have high debt loads that may impact their choices when they graduate."
Gumbiner said part of her job is to teach students that they don't need to take the maximum amount, and what they don't spend they can return. "Having the least amount of debt and understanding how they can tackle the debt in a timely fashion will allow students to begin their careers with a sound fiscal plan and improved financial wellness."
Her office will send students a college cost analysis twice a year. "It'll track how much they are spending in their student loans and give them a prediction on the other side, what it's going to cost them in a payment. When they see what the payment is going to be, that may help them make different choices."
Gumbiner will work with students one on one, speak to groups and encourage faculty to talk about finances with students. Students can book appointments online.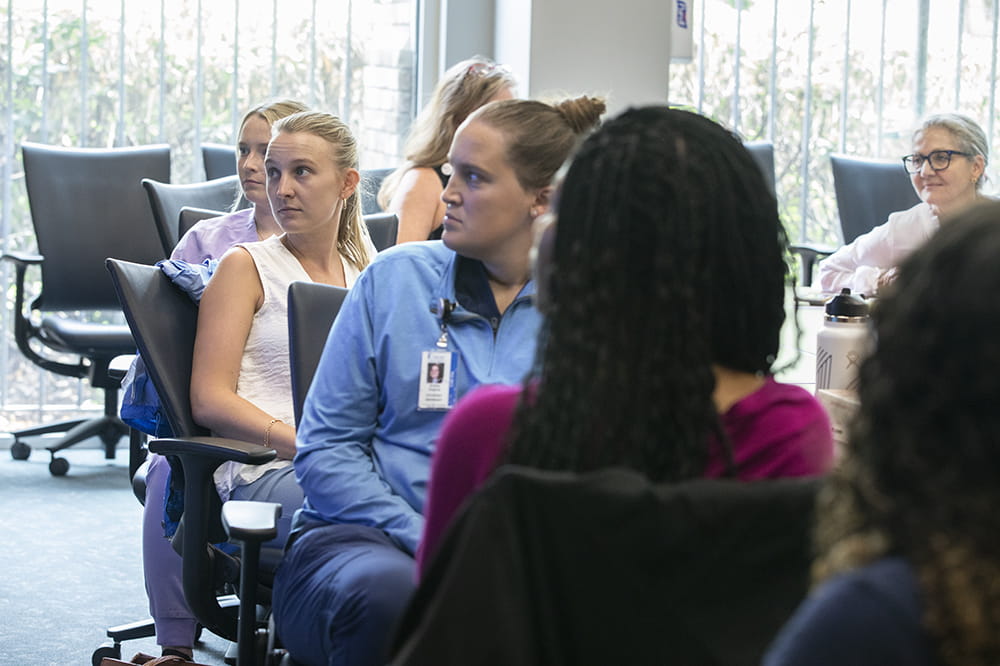 Thomas hopes the office will change the culture at MUSC when it comes to financial literacy. "This gives us a centralized resource and expertise. We were never intending to replace or remove any of the things that the colleges want to continue to do in terms of helping students understand and manage their finances," she said.
"But by having Liz in the position that she's in, with her expertise as a financial literacy educator, she can tailor certain educational activities to physical therapy students or dental students, for example. But she'll also be offering services and support and knowledge that's Universitywide, regardless of what academic program you're in."
Long said the office should get plenty of interest from students. While they're focused on learning, the Office of Student Financial Literacy can help ease their worries about how to manage their money and their debt most effectively while in school and as they launch into their careers. The goal is to enhance the student experience by improving their financial well-being.
"I would say as far as the things that I'm worried about in the future, it's a concern of if a couple years out of dental school, what if I want to buy a house? What if I want to buy into a practice. If I want to do those things, I have really no idea how the debt will impact my ability to do those things," the future dentist said.
"And then I think I've also had the mentality of I will have to rely on my significant other's income and credit and all of that to help me out because I have no income. So I can't even get a credit card without having somebody sign with me."
That's a lot to deal with. Gumbiner said MUSC recognizes that, and the opening of her office shows its commitment to students beyond the classroom. "I never want a student to leave MUSC thinking, 'You know, I wish I had known,' or 'I would've made different choices,'" she said.