Lawyer Tan Sri Shafee Abdullah speaks to the press on the 1Malaysia Development Berhad (1MDB) case at Kuala Lumpur High Court October 12, 2022. — Picture by Sayuti Zainudin
By Ida Lim
Wednesday, 16 Nov 2022 4:37 PM MYT
KUALA LUMPUR, Nov 16 — Former prime minister Datuk Seri Najib Razak's trial over the misappropriation of 1Malaysia Development Berhad (1MDB) funds ended early today, as his lead defence lawyer Tan Sri Muhammad Shafee Abdullah is on three days' medical leave after seeing a dentist yesterday.
Immediately after Datuk Tong Kooi Ong, the owner of financial publication The Edge, testified in the trial and answered questions from lead prosecutor Datuk Seri Gopal Sri Ram, Najib's lawyer Rahmat Hazlan informed the court that Shafee would not be available today to conduct cross-examination or question Tong.
Rahmat then applied to the High Court judge to allow the cross-examination to be deferred or held on another day.
"I have an application to make, we are asking for cross-examination to be reserved. Tan Sri Shafee will be conducting the cross-examination, unfortunately he is not well," he said, adding that the medical certificate would be given to the court.
"He is not well for three days. Right after the court session yesterday, he went to see a dentist, there's some complications. For that, Yang Arif, I humbly ask for the cross-examination to be reserved and I humbly apologise for this as well," he said, while noting that there are other prosecution witnesses that are also reserved to wait for Shafee to cross-examine them.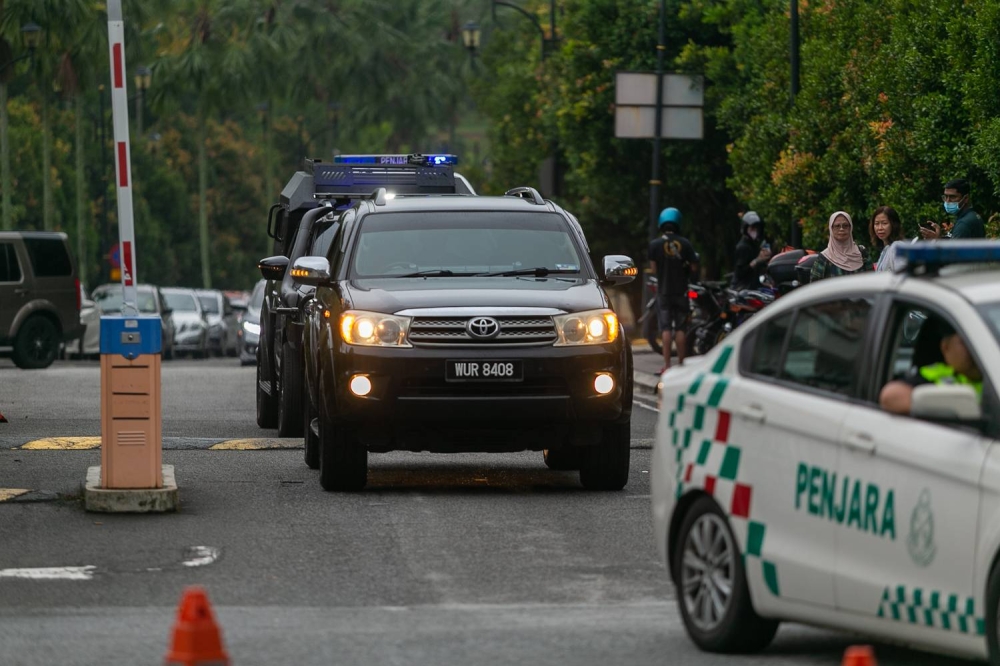 An SUV accompanied by police and prison department vehicles carrying former prime minister Datuk Najib Razak arrives at Kuala Lumpur High Court. November 14, 2022. — Picture by Raymond Manuel
High Court judge Datuk Collin Lawrence Sequerah then noted that the 1MDB trial has been losing time: "We seem to lose little pockets of time here and there, very difficult."
Rahmat said he also wanted to make another application since Shafee is also unwell tomorrow and as he believed the prosecution did not have new witnesses ready to be called tomorrow. Tomorrow is scheduled to be a full day of trial for the 1MDB case.
But the judge interjected to say, "It's a whole day, you know, being lost, and I don't have any more dates, my dates are all full and what happens is that, other cases — those on death row — have to wait, so I don't think it's fair, so any endeavour to call a witness?"
Lead prosecutor Datuk Seri Gopal Seri Ram said the difficulty that the prosecution faced was that most of the prosecution witnesses have returned to their respective areas to vote and said efforts have been made to locate these witnesses.
Sri Ram said Shafee did complain of a "pain in his jaw" yesterday after they presented arguments before High Court judge Mohamed Zaini Mazlan in another of Najib's criminal trials.
The judge said he understood that Shafee was unwell, but said the 1MDB trial can still go on by calling in new prosecution witnesses and then have their cross-examination reserved: "It's not the ideal situation, I already indicated before that, but under the circumstances is better to reserve cross-examination than to not have the case proceed at all."
The judge then said there will be court proceedings as usual for the 1MDB trial in order for the court to be updated.
MORE TO COME