Alpha Micro Tech Inc. created system to aid dental practices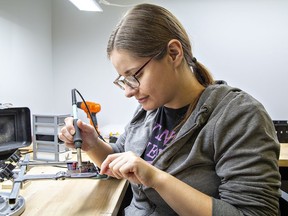 Article content
Opportunity in the dental sector was wide open and Frank Pedersen was one of the first to see it.
Article content
While working as an equipment repair technician in dental offices, he hit upon the idea of improving data collection from sterilization units. At the time, those machines came with a paper printer, but Pedersen eventually built an electronic unit to replace the printer by recording everything to a digital memory card.
If that doesn't sound very important, consider this. In early 2016, a child in Ontario died from Hepatitis C. The parents sued a dentist for $10 million, claiming the disease was caused by improper sterilization of dental instruments used on the boy.
The dentist couldn't prove otherwise. But Pedersen's device now records data from each sterilization cycle, letting dentists know their instruments were properly sanitized.
Article content
"I call him my nerd," says Pedersen's wife, Lorraine, vice president of the family's company, Alpha Micro Tech Inc. "He knew he could build something in the industry that would work, but he didn't know what it was or how he was going to do it, until things started to come together."
Frank's first device — the printer replacement — was built in the family basement and launched in the middle of 2017 while both Pedersens were working full-time jobs. Frank then created the Steriscan system, which records the digital information.
"It's a state-of-the-art product," says Pedersen, "completely digital and seamlessly integrated into an office."
The body governing the dental industry worked with Frank to meet the necessary requirements, and the health unit offered input. Along the way, the federal government helped with research and development grants totalling $100,000.
Article content
Today, Alpha Micro Tech has five distributors across North America and also sells the product itself, through dental and denture offices, and trade shows.
Pedersen says, "We're pleased to know our product is serving the industry, keeping everyone safe. If our machine is in place, data is being recorded and our system gives an office the record they need."
Such a need arose in a Guelph clinic when a disgruntled employee complained to the health unit about unsafe sterilization. But information from the Steriscan unit proved all standards were met.
"The doctor said, 'Thank you for saving our office'," says Pedersen. "That was comforting for us and it's a story I'll cherish forever. We can close our eyes at night and know we're OK."
Article content
When COVID hit, dental offices were investing in pandemic precautions, not new sterilizers. So Alpha Micro Tech provided trial periods for free, and used 3D printers to make and donate 11,000 face-mask brackets that ensured a better, more comfortable fit.
The company has also supported the Sunshine Foundation and other charities.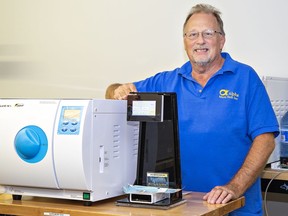 Business is now bouncing back, and the company has made impressive gains since its early days. It was nominated for this year's Entrepreneur of the Year award from the Brantford Regional Chamber of Commerce.
The nomination recognized financial growth, innovation, and community involvement.
"We were nominated by our colleague Nancy Tomkins, who's no longer with us, and she was a huge inspiration in growing our little family business," Pedersen says. "It really was an honour for us to be at the awards where Nancy herself received special [posthumous] recognition for her contribution to the community."
Article content
Pedersen is optimistic about Brantford's growth and future, especially because of the city's highways and easy access to everywhere.
"We're just a small piece of what's happening, but we like the way other companies are coming on board," she says. "We're Canadian-made, built in Brantford, and nothing is outsourced. We could go to big companies for supplies, but we're rather buy from local businesses. That's huge to us."
Pedersen adds she and Frank are working to hand off the business to their five boys, most of whom are already involved in some aspect of the work, including sales, website development and maintenance, and internet technology.
"We literally started in our basement, not knowing where our dream was going to take us, and not knowing what our vision would entail. But here we are six years later, employing people and doing what we love to do."
Note: This article was published as part of the Focus on Brant special section that appeared in the Brantford Expositor.