After more than two years, Convocation finally returns in person this year for the Class of 2022. Thousands of Dal graduates will be crossing the stage at Spring Convocation ceremonies from May 24 to June 3 in Halifax and Truro. Get to know just some of them in our Dal News profiles, shared from across the university.

(Stories are uploaded as Convocation ceremonies take place.)
Eye of the prize (Freddy Lee, Medicine)
From children's books to ophthalmology residency, Freddy Lee's journey to medicine has left him eager to apply what he has learned to patient care.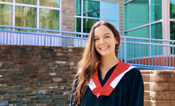 Bringing the strengths of two worlds to medicine (Tiffany Brooks, Medicine)
During the past four years of medical school, Tiffany Brooks learned how to integrate her personal and cultural experience into her education — leaving a legacy of inclusion and belonging at Dalhousie Medicine New Brunswick.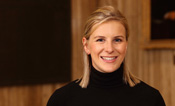 Breaking down stigmas in medical care (Lauren Miller, Medicine)
After battling burnout, Lauren Miller put perfectionism behind her — building a healthier, more compassionate, and wellness-centred approach to medicine she'll bring with her wherever she goes.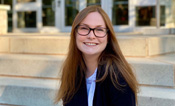 Working for change in communities (Allison Hearns, Law)
For Haligonian Allison Hearns, attending law school was about obtaining an education that would allow her to give back to the communities that raised her.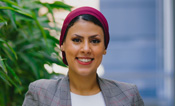 Advocacy, aid and challenging assumptions (Haneen Al-Noman, Law)
For Haneen Al-Noman, being involved with the law school community made her experience all the more rewarding and meaningful.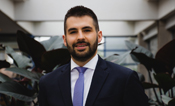 Passionate about reform (Harry Critchley, Law)
When Harry Critchley decided to go back to school after years spent working as an educator and researcher focused on access to justice and legal reform, the Schulich School of Law proved an ideal fit.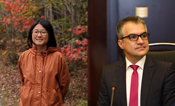 First cohort of digital innovation students cross the stage (Stella Bae and Amir Alavi, Computer Science)
Spring 2022 sees the first cohort of students graduate from the Faculty of Computer Science's Master of Digital Innovation program, including Stella Bae and Amir Alavi.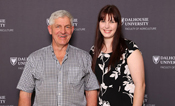 Father and daughter, connected through agriculture (Nelson Christie — Class of '82, Samantha Christie — Class of '22, Agriculture)
A shared passion for agriculture, animal science and barley rings presented 40 years apart connect a father and daughter together on Golden Meadow Farm in Central Waterville, New Brunswick.
A steward of the land (Victoria Moffatt, Agriculture)
A full-time stepmom to two young children who is self employed, Victoria Moffatt is passionate about plants and excited to support ecological functions through the use of holistic landscape designs.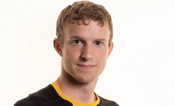 Male athlete of the year's 'all‑around talent' will be missed (Adrian Bent, Agriculture)
While there may be a family history of attending the Agricultural Campus in the Bent household, Class of '22 grad Adrian Bent has certainly left his own mark there over the past four years.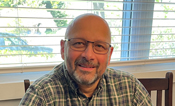 A second act (Mark Naipaul, Health)
After retiring for from a full career in the federal government, Mark Naipaul went back to school to do his BSc is Recreation Management with the goal of supporting the well-being of veterans with PTSD and physical injuries due to their service.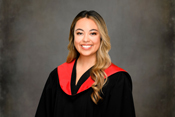 New perspectives, superior support (Attiya Purificati Fuñe, Health)
From her practicum at the Dalhousie Accent Clinic to an internship with the Conseil scolaire acadien provincial, Faculty of Health MSc grad Attiya Purificati Fuñe was gifted with new experiences and connections in her journey to becoming a speech pathologist.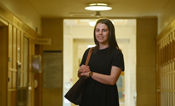 Finding the right balance (Claire Mercer, Arts and Social Sciences)
Claire Mercer, a Combined Honours in History and Political Science grad, leaves Dal with valuable work and volunteer experience both on and off campus and several special achievements to be proud of.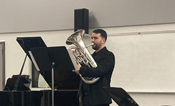 An instrumental change brings joy of performance back to music student (Jonathan Haggett, Arts and Social Sciences, Fountain School)
When Jonathan Haggett began at Dalhousie in the fall of 2008, he focused his studies on the trumpet. Now, as he completes his degree as a mature student, he does so as master of a different instrument — the euphonium — that's helped him blossom and find his voice as a musician.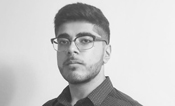 Breaking new ground in architecture (Irfaan Kasmani, Architecture and Planning)
Irfaan Kasmani grew up in Kuwait, but explored the development of informal settlements in his birthplace of Kenya as part of his thesis in Dal's Master of Architecture program.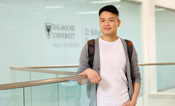 From science educator to dental hygienist (Geoff Seto, Dentistry)
After earning a degree in microbiology from Dalhousie in 2010, Geoff Seto knew he wanted to pursue some sort of health-care profession — but it wasn't until an experience his mother had as a cancer patient years later that he considered dental hygiene.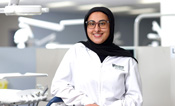 Taking joy in making patients comfortable (Ramlah Mahmood, Dentistry)
Inspired by her father's work in the health professions, dental hygiene grad Ramlah Mahmood thrives on educating patients about disease prevention and oral health.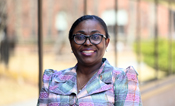 'Dal chose me' (Joy Ifesanya, Dentistry)
Joy Ifesanya's journey to working toward certifying as a dentist in Nova Scotia began at home in Nigeria. This spring, she graduates from Dal at 46 — the oldest student in her class — and ready to dive into her career with her family by her side in Halifax.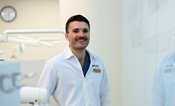 The journey to become a dentist (Alec Grabinski, Dentistry)
Alec Grabinski found the transition from undergrad studies to dental school challenging, as was leaving his close-knit family in New Jersey — but the community he found at Dal proved to be just the support system he needed.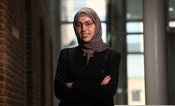 Engineering grad inspires next generation of women in STEM (Eptehal Nashnoush, Engineering)
Throughout her time as an electrical engineering student at Dal, Eptehal Nashnoush searched for opportunities to advocate for women and equity-deserving groups, showcasing to aspiring students what it means to be a modern-day engineer.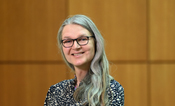 Finding what she needs (Poppy Riddle, Management)
Poppy Riddle's leap from industrial designer in California to Master of Information student and researcher in Nova Scotia is a big one, but dig into the decision and commonalities can be found.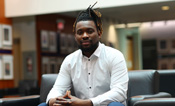 Seeing it through (Enemona Agada, Management)
Nigerian-born Enemona Agada was attracted to Dal's Bachelor of Management program because he was curious about how businesses work. When juggling more than one job on top of a full course load proved challenging, he sought and got the help he needed to turn it around.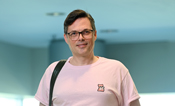 Exploring a different direction
The Master of Information Management program has already opened new doors for Jason Swinamer, a mid-career learner interested in taking his career to the next level.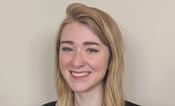 The sun shines on Isabel Curtis
MSc Chemistry grad and Governor General's Gold Medal Award winner's research lays the groundwork for solar-driven hydrogen production.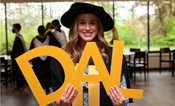 From human health to soil health
A summer research position introduced Louise Sennett to the study of soil science, leading her down a path to becoming Dal's first PhD student in Agricultural Sciences to cross the stage at Convocation.